Our Team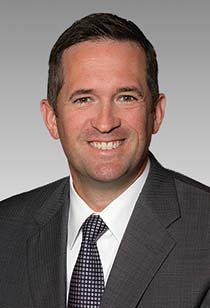 Richard Hutchins
Senior Vice President, Financial Advisor, Co-Branch Manager
In September 2009, Rick helped lead the effort to open D.A. Davidson's Medford office where he is the managing partner of Hutchins Wealth Management. For the past seven years, Rick has been named to D.A. Davidson's Chairman's Council, as one of the firm's top advisors. Rick currently serves as the Chairperson for D.A. Davidson's Branch Manager Advisory Council, and has also served as Chairperson for D.A. Davidson's Financial Advisor Advisory Council. From 2012 to 2014, Rick served as an advisory board member on D.A. Davidson's Board of Directors. In 2016, Rick was named D.A. Davidson's Co-Branch Manager of the Year.
Rick's career began with Smith Barney in 1997, when he was hired as the Director of Sales for SB Asset Management's Northwest Region, based in Seattle. By 1999, Rick had established himself with the firm as one of SB Citi Asset Management's youngest corporate vice presidents in firm history. In 2000, he moved to Medford and joined Smith Barney as a Financial Advisor, continuing his career there until September 2009. Rick was a member of Smith Barney's Chairman's Council which honored the firm's top tier Financial Advisors.
Following high school graduation, Rick spent a year in Brussels, Belgium as an ambassador in the Rotary Student Exchange Program. Rick has studied internationally with the University of Pittsburgh and Texas Christian University. His years of studying abroad took him to over 30 countries and five continents. He is a graduate of Willamette University with a bachelor's degree in business economics.
Rick currently serves on the board of directors for Medford-based Kids Unlimited of Oregon and the Rogue Valley Timbers soccer club.
Rick lives in Medford with his wife, Lisa, and together they enjoy spending time with their daughters, Talia and Carmen, and son Joey.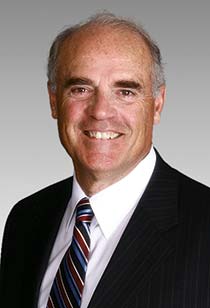 Robert Hutchins
Senior Vice President, Financial Advisor
Bob's investment career began with Blyth & Company in 1968. He joined Foster & Marshall in 1973 and was appointed Branch Manager in 1975. He remained with the same firm and its nine name changes until September 2009, when he left Morgan Stanley Smith Barney to open D.A. Davidson's Medford office. During his career, he has established a reputation as a highly-respected member of his community and profession.
In September 2009, Bob helped open D.A. Davidson's Medford office. For the past seven years, he has been named to D.A. Davidson's Chairman's Council, as one of the firm's top advisors. In 2016, Bob was named D.A. Davidson's Co-Branch Manager of the Year.
Bob holds a bachelor's degree in theology from Northwest Christian University and doctorate of humanities. He previously attended Oregon State University on a football scholarship.
Bob and his wife, Marilyn, have four adult children and nine grandchildren. He enjoys reading, hunting, fishing and is an avid fan of Oregon State athletics.
Adam Reed
Financial Advisor, CWS©
Adam's career at D.A. Davidson began in 2014, when he joined veteran Financial Advisor of 40 years, Gayle Reed in an effort to provide continuity to her clients before retirement. Adam and Gayle worked together for 7 years before her retirement in 2020. During this time Adam, developed systems to create a team enviroment that would provide for an excellent client experience, and built lasting relationships with clients by helping them to navigate life's financial transitions.
Adam grew up in Southern Oregon and graduated from Crater High School in 2003, after which he spent 10 years living in Los Angeles, CA. During his time in Los Angeles, Adam worked on Rodeo Drive managing luxury retail stores and attending Santa Monica Community College before eventaully transferring to Pepperdine University. At Pepperdine, Adam received a BS in Business Managment, and a MBA in Finance.
Adam has been a member of the Central Point Rotary Club since 2019, and is an active supporter of the Crater Foundation, which provides scholarships to Ctrater High School graduates.
Adam and his wife, Yasmin, live in Medford and have 2 daughters, Bowen and Bellamy. He enjoys golf, skiing, baking, and spending time with his family.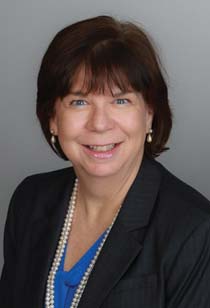 Karen Nicholson
Co-Supervisory Branch Operations Manager, Senior Registered Associate
Karen is a proud graduate of Oregon State University with a bachelor's degree in business administration and finance. Karen has 38 years of industry experience in both operations and client services. She has extensive knowledge of managed account products and the data processing and reporting procedures.
Karen's interests outside of work include college sports, international travel, and time with her family. She and her husband, Larry, have two sons, Ryan and Ben.
Lilia Caballero
Client Associate
Lilia joined D.A. Davidson in 2018 and comes from a background in customer service. Building client relationships is her top priority and it shows in the service she provides. Lilia is a Rogue Valley native and a graduate of South Medford High School. She enjoys traveling, staying active, and spending time with her family.